After having explained how to use Second Canvas as a tool to set up a digital exhibition, in this post we will talk about how to use it as an educational platform.
If with super-zoom you can explore works of art more closely than ever before and find hidden details that are not normally visible to the naked eye, the storytelling enrichment offers new routes for exploring the image. It is a place to tell stories about the technique, composition, characters, historical context, and also (why not?) anecdotes and secrets that bring the artwork "closer" in a different way.
Usually these stories are created by people who work at the institutions. But what would happen if that possibility is also open to students, families or visitors?
This is what our current education pilot, targeting museum education departments and schools, explores. Our proposal is a workshop in which participants exchange their passive role as consumers of content created by others to themselves become the storytellers. And to do that, we propose a physical space where they can investigate, discover and find links between all kinds of content.
With this activity two objectives are achieved. On one hand, we offer a place for research with the aim that participants will be infused by the works of art. And on the other hand, we give them the opportunity to create a unique narrative of their own.
Last February we organized our first workshop together with San Telmo Museoa at the museum. 15 senior citizens joined us for an activity that began with a contemplative visit designed by the museum through their collection. Attendees had templates with different cut-outs through which they could view the works and this forced them to focus their attention on details of the works rather than on the whole.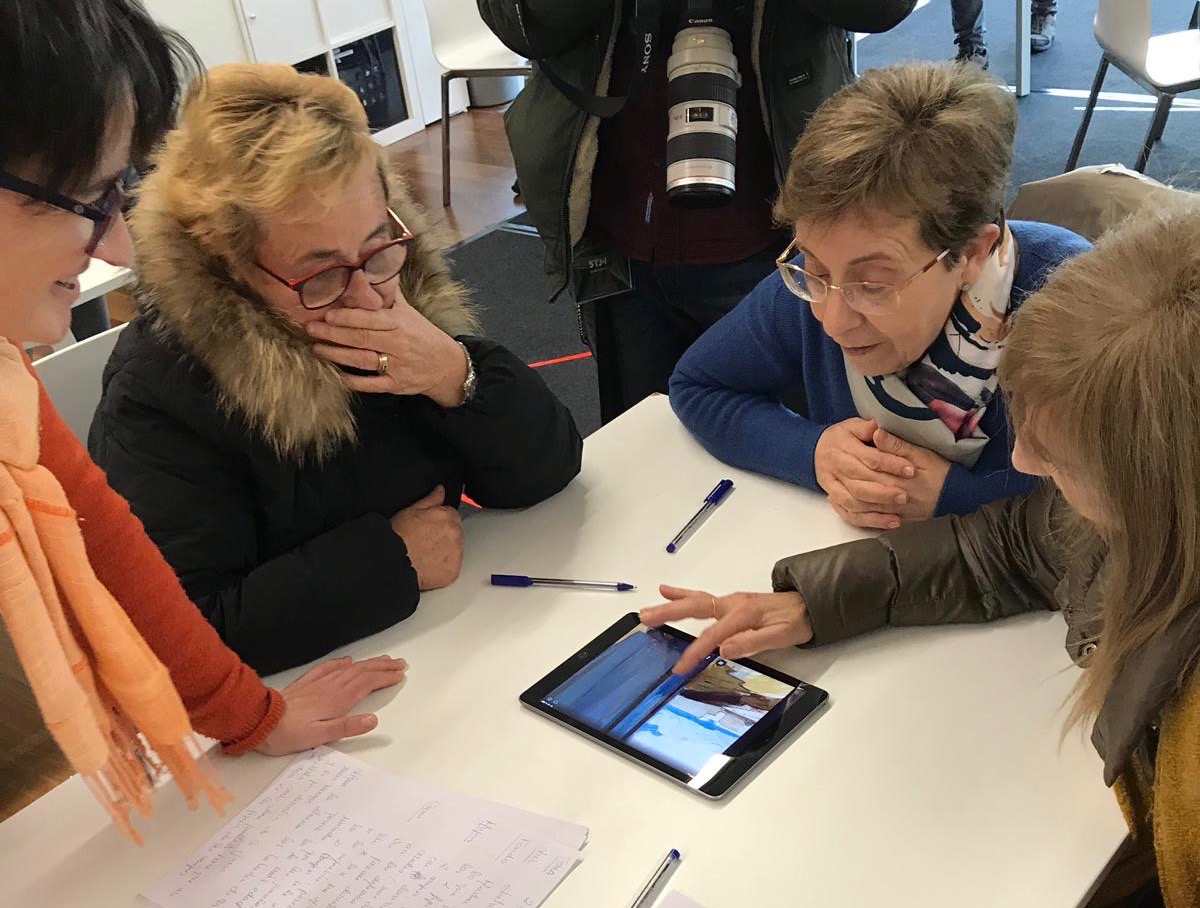 Later we introduced the possibilities of Second Canvas and how the workshop would work:
1. We discussed content creation as a narrative and the way details could help to build a cinematic experience when viewing an artwork. The details they had viewed through the cut-outs were linked to the zoom images in Second Canvas, both sources of creativity for storytelling. Then each attendee selected the details they wanted to highlight, compiled the contents they chose to include and through this, they expressed their own particular vision of the painting and later shared it with the group.
2. The practical part of the workshop began with each group being given an iPad containing a single work. The workshop coordinator explained briefly how the app and the CMS work. The learning curve was very low and they had no difficulty entering the text they prepared.
3. At the end of the workshop, each group shared their story on a TV screen. It was great to see how easily they took advantage of what Second Canvas offers, and were able to explain details that had caught their eye, such as the status or clothes of the characters.
Next March 26 and 27 we will be at Madrid's Círculo de Bellas Artes to participate in ConCienciArte, a science and innovation fair. This year activities that unite art and science take on special relevance. In this context we will offer a new workshop primarily addressed to high school students called "An authentic work of art". This activity aims to promote a playful and participatory approach to art. We will keep you posted on the results.
If Second Canvas appeals to you as an educational tool, don't hesitate to contact us.